Sun Disc Number 108
Regular price

$7,596.00
Sale price
Pickup currently unavailable
Share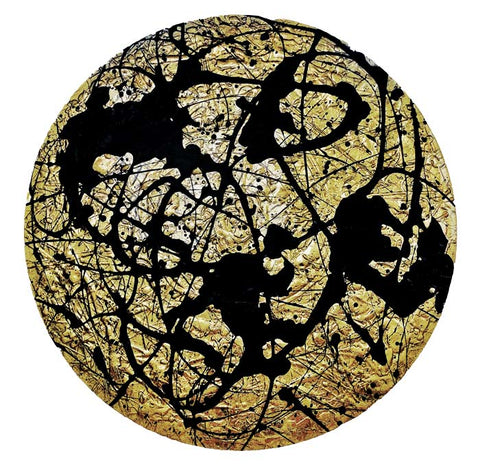 Sun Disc Number 108

Gold Metal Leaf, Acrylics and Raisin on Wood
Dimensions 100cm x 100cm
This work is original
2022
Every piece comes with a Verisart web3 Blockchain Certificates of Authenticity
Shipping costs will be charged separately
This solar disc presents Life from a harmonic low relief pattern of intersecting rays. Sun worship is reflective of the universal human need to comprehend the mysteries of life, death and the beyond. In many cultures, this cycle is closely tied to the rhythmical changing of the seasons and the passage of the sun across the sky. For the ancient Egyptians, for example, the rising of the sun in the morning provided a model of daily regeneration and suggested their own resurrection after death. 

All my unique Sun Discs are oscillated with Solfeggio Frequencies for 24 Hours.

Discover the beauty of Gold Art paintings on our website. Our collection features a wide range of styles, from contemporary abstract to traditional landscapes, all created using gold leaf and other precious metals. These unique pieces of art add a touch of luxury and elegance to any room. Our gold art paintings are perfect for any home, office, or gallery setting. Each painting is handcrafted by our skilled artists, ensuring that each piece is truly one-of-a-kind. Browse our collection today and elevate the look of your space with a stunning gold art painting. Gold leaf art, gold painting, contemporary art, traditional art, abstract art, luxury art, precious metal art."

Invest in timeless beauty with our gold sun disc art collection at our Blue Chip art gallery. These unique pieces are crafted using only the finest gold, making them not only stunning works of art but also valuable investments. Our sun disc collection features a range of styles, from contemporary abstract to traditional designs, all handcrafted by award winning swiss artist Oliver Schibli.

As a award winning artist, I'm specialize in providing high-quality, sought-after artworks that are sure to appreciate in value over time. My collection includes a range of art pieces that have a proven track record of appreciation.

Whether you're looking to add to your own art collection or invest in a piece that will appreciate in value, our 24-carat gold sun disc art is a perfect choice. Visit us today and experience the beauty of these one-of-a-kind works of art for yourself. Gold art, investment art, blue chip art, luxury art, sun disc art, contemporary art, traditional art, abstract art.