The Dance of Determination - 50% off with code "xmas23"
Regular price

$7,039.00
Sale price
Pickup currently unavailable
Share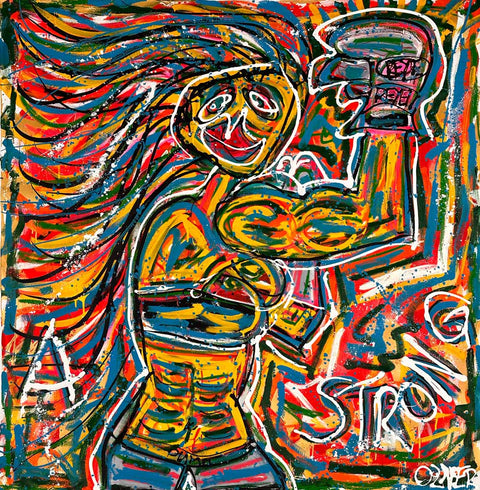 The Dance of Determination
50% off with code "xmas23"

Oil and Acrylics on Italian Canvas
Dimensions 170cm x 150cm
This work is original
2018
Every piece comes with a Verisart web3 Blockchain Certificates of Authenticity
Shipping costs will be charged separately
Not Framed at the moment. rolled canvas
This artwork tells the story of a fighter who refuses to be discouraged by life's adversities. She is an inspiration to all of us because she shows us that we can overcome our own limitations if we only have the courage to pursue our dreams.

Her dance in the ring is an expression of her inner strength and her indomitable will. Every punch she throws is a symbol of her determination not to be defeated. She fights not only against her opponents, but also against the doubts and fears that arise within herself.

This artwork invites the viewer to enter the world of the fighter and feel the energy and passion that drives her. It reminds us that we all have the ability to conquer our inner struggles and achieve our dreams if we only have the courage to face them.

In this work let us celebrate the strength and courage of the warrior and remind ourselves that we all have the ability to overcome obstacles and achieve our goals. May it remind us that true victory is not in winning or losing, but in the determination to never give up and always keep fighting.