The Union of Souls - 50% off with code "xmas23"
Regular price

$7,039.00
Sale price
Pickup currently unavailable
Share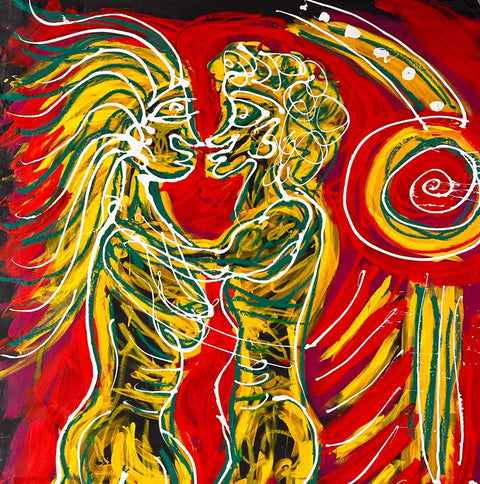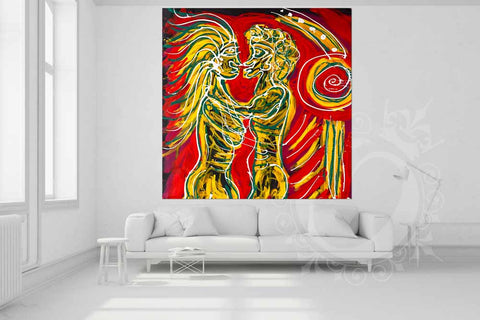 The Union of Souls
50% off with code "xmas23"

Oil and Acrylics on Italian Canvas
Dimensions 170cm x 150cm
This work is original
2018
Every piece comes with a Verisart web3 Blockchain Certificates of Authenticity
Shipping costs will be charged separately
Not Framed at the moment. rolled canvas
In a moment of timelessness, two souls merge into one. Their lips touch gently as their hearts beat in unison. In that kiss, the essence of love is revealed, a connection that transcends space and time.

This artwork tells the story of two people who found each other amidst the chaos of the world. They have overcome the barriers of everyday life and immersed themselves in a world where only their love exists. Their hug is a symbol of the harmony they have found in themselves and in their relationship.

The kiss is not only a physical act, but also an expression of her deepest emotions and thoughts. It's a moment of realization where they realize they are meant to be together. Their love is not just a fleeting passion, but a connection based on mutual respect, trust and understanding.

This work of art invites the viewer to enter the world of love and feel the magic of this moment. It reminds us that true love is not just a feeling, but also a deep connection between two people willing to accept and support each other.

In this work let us celebrate the beauty of love and remember that it brings us hope, comfort and inspiration. May it remind us that love is the strongest force that connects us and unites us in our humanity.